What if we say Balmain and Beyoncé?
Yes, you got that right. The creative and talented Olivier Rousteing and Queen Bey have signed an exclusive capsule collection that is already a legend and bound to be sold out in a very few hours.
Olivier Rousteing - Balmain's creative director for 8 years - and Beyoncé has already collaborated side by side for more than three months to spawn sensational collections of iconic garments worn by the queen of Pop (but also by her family and more than 200 dancers and musicians) during the shows that took place on the 14 and 21 of April at the Coachella festival.
« A goddess, blessed by an incredible voice that, along with a great moral vision, makes her a strong and deeply inspiring woman» said Olivier Rousteing about Beyoncé.
And, after having established all the details, this magic collaboration could only be followed up: that's how this sensational limited edition has born - available exclusively at some of the most prestigious official dealers - of sweaters and t-shirts inspired by those showed off on the stage of the Californian festival, that has been attracting young people, celebrities, and influencers coming from all over the world for years.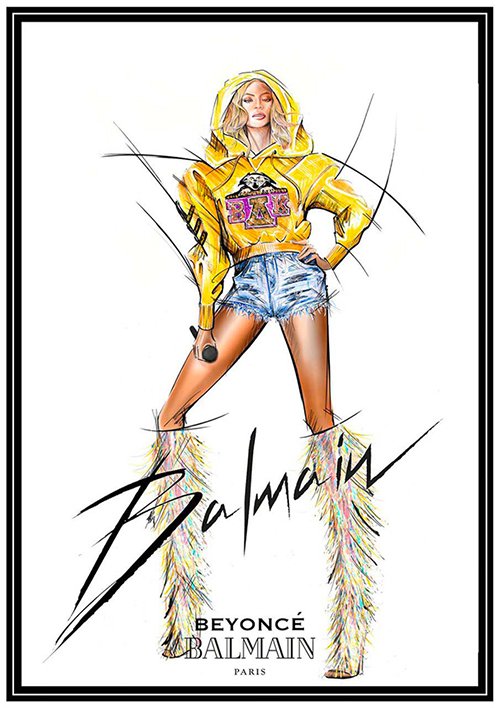 The key themes and the badge - finely embroidered or printed - pay tribute to the spirit of America's historically black colleges and universities (HBCUs), putting a spotlight on the importance of the social integration of minorities: and that's why the proceeds of the collection will be used to finance the valuable work of UNCF (the greatest philanthropic organisation of the USA in the field of the education of minorities) to support its efforts in helping thousands of black students not only to be admitted to the college, take a degree, and grow up, but also to occupy a leader position in the world.
When and where to buy the charity capsule collection Balmain x Beyoncé?
The Balmain x Beyoncé capsule collection is available online and in limited edition at Giglio.com.
And now sign up for our newsletter to receive all our fashion news!