What to wear in London for a holiday alone or with your friends?
As metropolis and European capital, London is the melting pot of different cultures, where districts distinguish from each other for different customs and traditions, so it is impossible to talk - concerning clothing - about a "unique" style: around the city you may see different trends, and you get so used to all these diversities and eccentricities, that they go completely unnoticed.

If you visit London as a tourist, the first among our tips is to choose comfy and casual clothes but fashionable: the new women's trends with a comfy mood will be perfect to give an extra kick to your outfit!
Usually, during autumn and winter, the temperature is variable and if you will be there between November and December you should wear heavy and warm clothing to be ready to face even the coldest days.
The perfect solution is to dress in layers since inside restaurants, museums and shops it gets very hot.

What to pack when you go abroad for 5 or 3 days with just a luggage of 10 kg or a hand luggage?
Do a smart selection: pack a trendy outerwear or a reversible down jacket (to put on in order to don't waste space!) and then create interchangeable outfits.
In the list of things to bring with you to go to London, don't forget a compact umbrella: since the London rain may surprise you even in the sunniest days of August, so it's better to have it one in your bag!

If you visit Camden Town and you want to blend in with the Londoners who hang out at this zone, that is well known for being a meeting place for young emerging artists, with an urban look that seems shabby but so detailed (the queens of street style know how to dress in London and teach us fashion lessons!), you may take a walk on Saturday or Sunday among the typical and colorful local markets wearing a pair of vintage trousers, an oversized wool sweater with a long coat, and complete your look with a soft beanie.
However, if you are looking forward to experiencing the English traditions, and drink some tea at 17,00 in the Ritz Hotel tea room, keep in mind that in these locations the rule "A book can be judged by its cover" is taken very seriously. No matter how English people may seem democratic and open-minded, you should never forget that the customs inherited from the British Monarchy are rigorous and with few exceptions. In this case, opt for a classy and simple look.
Choose the go-to black color, perhaps matching it with sophisticated and warm shades like dark green, blue, burgundy...In short, all the royal colors! ;-)

But if you go to London for business, it's definitely a different story. Sober and fine items, but worn in style: they are an unquestionable "must" and synonymous with competence. Indeed, in nearly every great company the dress code is strictly required, except for some ones where, on Friday, it' s allowed a more casual business look, but always refined and never sloppy. No brown in town? An outdated cliché but not completely forgotten.

To get a British old-school style the must-haves are: the pleated skirt in tartan, and the derby lace-up shoes with English perforations, matched with a hooded Montgomery.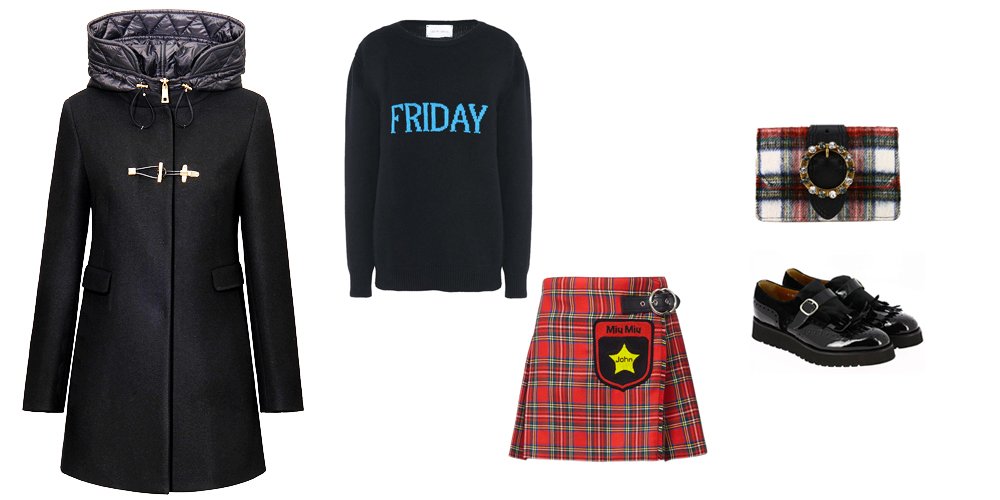 In conclusion, London and its inhabitants warmly welcome us always and everywhere, so let's surprise them showing that we are on the top of any situation. Get the London look!
Get charmed by our selection of pieces and accessories inspired by London and don't miss our style guides about what to dress in Paris and New York or for mountains holidays in Cortina!