The Pantone color 2018 was unveiled!
An intense purple with evocative and contemplative hints of blue.
After the previous Pantone colors, like the delicate rose quartz or the more recent Green Greenery, the new color of the year Pantone Ultra Violet looks to the future. On one hand, it is reminiscent of the depths of the universe and its mysteries, the curiosity that pushes us to investigate and discover more and more things on what is "beyond ourselves" that is so fascinating and enigmatic. On the other hand, it is the color of a revamped discovery of ourselves through new and creative expressions.
An invitation to push our own limits and stand out for our inventiveness: violet and its shades, which have always been a symbol of a revolutionary and anticonformist counterculture, have been chosen and brought back to the scene by Jimi Hendrix, David Bowie, and Prince as the emblem of individuality.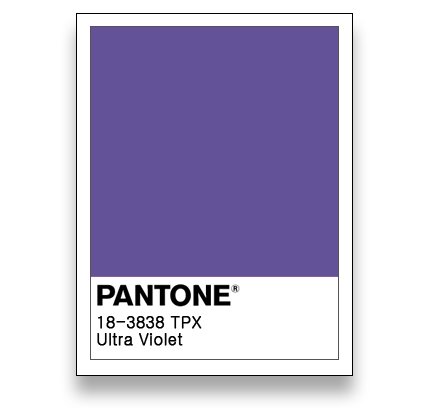 Leitrice Eiseman – Executive Director for Pantone Color Institute – better explains the Pantone Ultra Violet meaning: "We are living in a time that requires inventiveness and imagination. It is this kind of creative inspiration that is indigenous to PANTONE 18-3838 Ultra Violet, a blue-based purple that takes our awareness and potential to a higher level. From exploring new technologies and the greater galaxy to artistic expression and spiritual reflection, intuitive Ultra Violet lights the way to what is yet to come."
Always regarded as a mystic and meditative color, it aims at increasing the awareness - intended as a reflective experience in the hic et nunc - of our uniqueness in a frenetic, centripetal, and confused way. It's no coincidence hat lights in meditation centers are purple to instill positive energy and an increased interconnection among individuals.
"This year's color," tells the vice-president Laurie Pressman "is meant to symbolize something more than just a trend in the design world. This is exactly what the world needs today." Precisely the ability to spread messages and good intentions makes it become the favorite color to influence and inspire, especially the fashion world.
How wear Pantone color 2018?
This intense violet - which is among the fashion colors 2018 - has always been considered as a "particular" color not very easy to wear. The catwalk S/S 2018, however, gives us some instructions (and above all inspirations!) on how to match it: in color block - with green, orange, red, turquoise, fuchsia, yellow and brown - or in full color.
A shade perfect for golden accessories that is particularly suitable for those special occasions on which you don't want to go unnoticed. But be careful, the perfect wedding guess etiquette says "never in purple at weddings neither in summer nor in winter!
And now discover all our items and accessories in the color of the year 2018!