Attention please, the hottest topic is: trending sandals 2019.
What are the models worn by the top influencers - already most wanted - and the trendiest and eye-catching ones?
Let's have a bit of light among the new collections: bags and shoes are never enough (above all when it comes to irresistible new arrivals).
Fashion shows of the Fashion Weeks in New York, London, Milan, and Paris set the rules about the trends of the new season concerning shoes to match with colorful, multi-patterned and neon items.
It's to be expected: season after season, fluorescent, futuristic, eye-catching and bold shades are among the Spring/Summer 2019 fashion colors.

Big comeback
(Brace yourself)
1. SANDALS WITH PLATFORM
Yes, some of you let them go with difficulty and the rest of you have accepted the change of the trend with great enthusiasm.
They are back in a revival version, oversized and anything but banal: in satin (Miu Miu), metal, patterned or in color block (Saint Laurent).
They have to be eye-catching!
Photo: Saint Laurent SS 2019 Credit © Catwalkpictures.com
2. PEEP-TOE BOOTIES
Flat or heeled, open-toe or flip flop, they are the loved-hated compromise between sandals and boots. They have been - and are now - on-trend!
Also on sporty and high-performing version, in super technical nylon jacquard (Prada) or in high-tech net (Fendi) or even, in PVC with cut-out details (Balmain).
The Most-loved
3. SANDALS WITH STRAPS
Naked appeal. Sexy, very sexy. High-heeled, of course, they are the must-have women's sandals of the new season.
Minimal, colored, animalier, neon or bicolored, with a squared or pointed sole.
You name it. The important thing is that they have to be VERY THIN.
4. GLADIATOR SANDALS
Lace them up! Heeled or ultra flat, the gladiator sandals are back for holiday and ultra glam outfits.
High as cuissardes (Dsquared2) and not only: get inspired by the boho-chic mood (among the hottest trends of the new season) with lace-up and cherokee sandals (Philosophy by Lorenzo Serafini), enriched by fringes and fluttering decorations.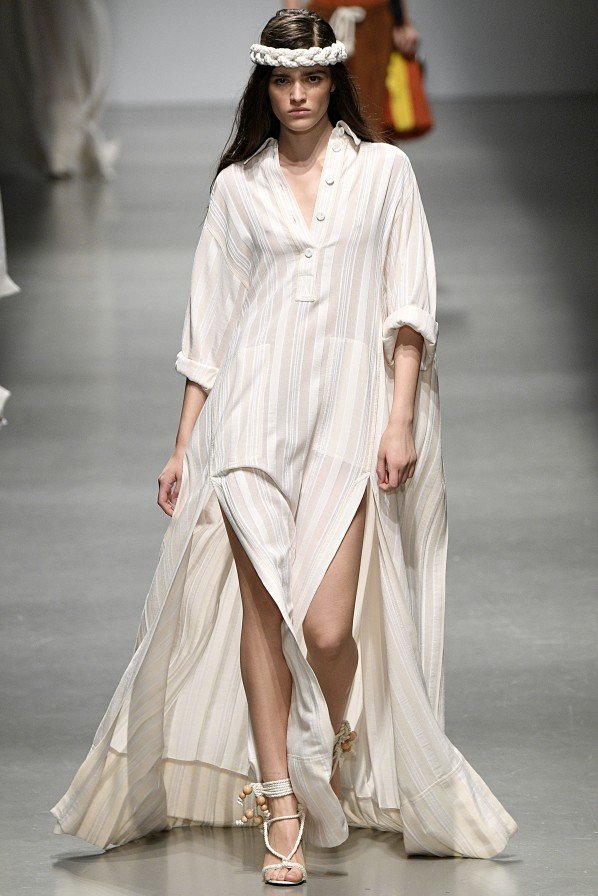 Photo: Philosophy by Lorenzo Serafini SS 2019 Credit © Catwalkpictures.com
5. JEWELED SANDALS
No, we cannot do without them.
Forget the classic models for this season. The new jeweled sandals are anything but "less is more": baroque and enriched by maxi stones (Miu Miu), these sandals will never go unnoticed. Be ready to shine!
6. PEEP-TOE MULES
In leather (Salvatore Ferragamo) or PVC (Versace), high-heeled and chunky or wedge sandals.
This is also a comeback. Maybe you will turn your nose, but trust us, you will love them!
7. ICONIC
These are those models that don't need to be described. We know them, we love them and we (really) want them!
New In
8. FEATHER SANDALS
Stylists and designers are in agreement on feathers. They are unmissable for this season.
Above all, flat sandals in ostrich feather (Valentino Garavani) or in carved leather (Tod's), we know that these are the most beautiful and elegant sandals of this summer.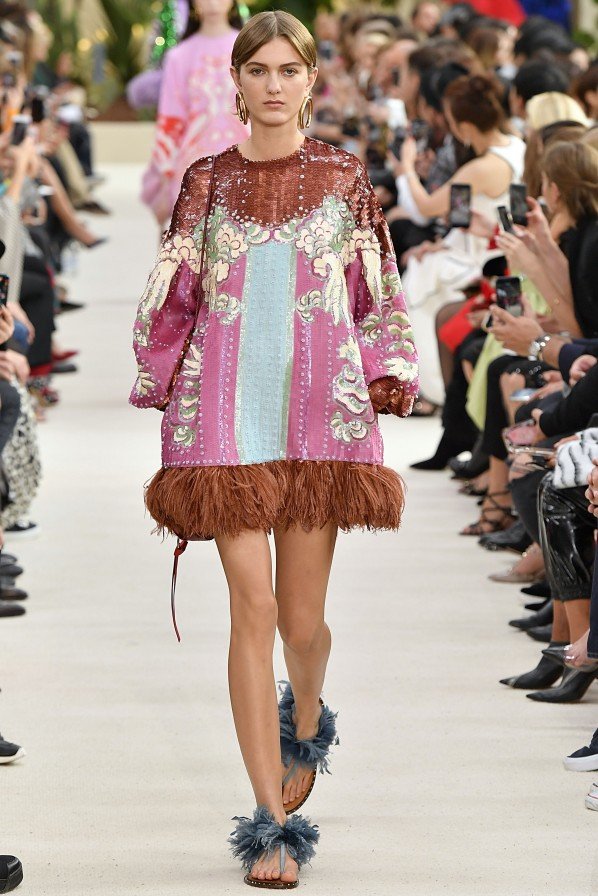 Photo: Valentino SS 2019 Credit © Catwalkpictures.com
9. SANDALS/SNEAKERS
The summer revolution of chunky sneakers ('90s-inspired).
Very high (Dsquared2), or flip-flops (Off White). We warn you, it's only a small step from runways to street style!
10. COUTURE FLIP-FLOPS
Yes, you heard right. After slider sandals there are flip-flops. Flatform and oversized, spa-inspired (Acne Studios) or with asymmetrical wedges and cork details (Salvatore Ferragamo). Just for casual outfits? Not necessarily...
Photo: Acne Studios SS 2019 Credit © Catwalkpictures.com
11. TOURIST SANDALS
Will be this the breakthrough? Sandals for fashion insiders with a travel profile.
With a raised sole (to be more comfortable), and wrap around bands (3.1 Phillip Lim), are undoubtedly the most comfortable shoes of the new season.
12. SANDALS WITH BUCKLES
Two (or ever three, four...) is better than one! Sandals with multiple buckles on your feet are a real most-wanted. How to choose them? With buckles (Balenciaga) or ultra tight (Balmain).


If you are wondering where to shop designer sandals by the best international designers, you are in the right place: here is the list of the sandals according to the different models to help you during your research.
HIGH-HEELED SANDALS
FLAT SANDALS
Sign up for our newsletter to receive our fashion news and promotions!