What to wear in Cortina in winter?
If you have booked a Christmas holiday in the snow and you are wondering what to pack and what to wear to be perfect, you are in the right place!

Also known as "the queen of the Dolomites", Cortina d'Ampezzo has always been one of the most exclusive skiing destinations in Europe, frequented by the international jet set.
For those who love skiing but also social life, it is the right place to spend funny and unforgettable holidays.
After a sporty morning in Faloria and Cristallo mounts, the afternoon is dedicated to shopping in the city center where you will feel in a sporty red carpet. The ritual is having a mini hot chocolate with cream at Lovat with some delicious pastries that will give you the energy needed for the rest of the day. For this reason, it is very important to dress in layers and to bring hat, scarf and gloves.
At hotels and chalets, the temperature is higher so it might be useful to wear light pieces under all the rest.
Don't miss to pack an elegant down jacket or a warm coat to wear with your comfy outfit: leggings and oversized sweaters will be perfect for a look in Cortina, simple but stylish.

You will conclude your day with a night dinner at the most famous restaurants, like El Camineto or Villa Oretta, and for those who love nightlife, you may go at a discotheque like Vip frequented by many celebrities, or like Bilbò.
If you plan on doing some excursions, don't miss Braies lake, one of the most popular destinations and frequented by travel bloggers: pack warm pieces but stylish to be perfect at the moment of the shot on the frozen lake with the Dolomites in the background.

The 3 unmissable pieces and accessories to bring with you for a holiday in Cortina?
1. Fur
Also in faux version - among the Fall/Winter 2017-18 trends - it is the most elegant winter outerwear par excellence. Perfect to protect you from cold and, at the same time, to give a classy touch to your outfit.
2. Bag
A beautiful bag will not go unnoticed and Cortina is the right place to show off the best bags in your wardrobe. Our tip is let yourself get inspired by the latest trend when it comes to bags and to bring with you a maxi bag, comfy and spacious for the day, and an ultra glamorous mini bag for the night.
3. Elegant dresses
There are always exclusive parties, above all for the New Year's Eve the dress code is rigorous: long dress for women and suit for men.

If you won't go to Cortina but you are curious to know how to dress in mountains and to show off a flawless winter outfit, here is a look that could be perfect for you!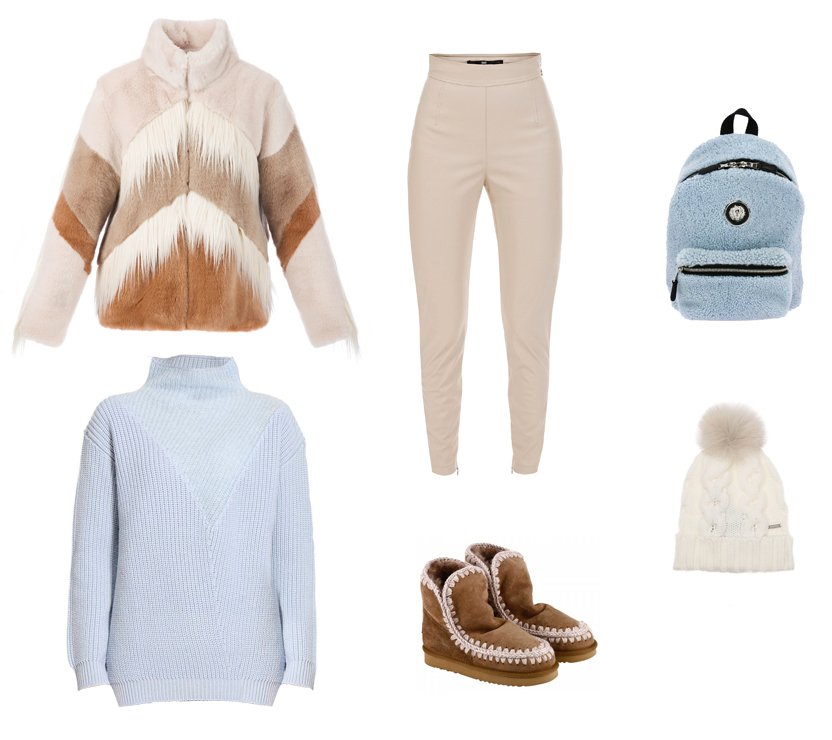 Winter holidays? Discover also our Style Guide about what to wear in Paris, London, New York: the most popular destinations for New Year's Eve!