What to wear to a formal summer wedding?
Late May, June, and July are the warmer and preferred months to walk down the aisle, but the rising of the temperatures is often a mortal enemy of guests and diners.
Above all for men!
So, we have some anti-hot tips in our style guide for perfect men guests!
Actually, for women guests who hate the heat, choosing the outfit for a winter wedding will be so much easier!
How to dress for a summer wedding? The answer is not so easy as it seems, and sometimes our choices are wrong.
You need to know well - just as on all other occasions - your body and how to enhance it to be flawless, but also how to dress well and how to choose the right colors for your skin tone and how to match them.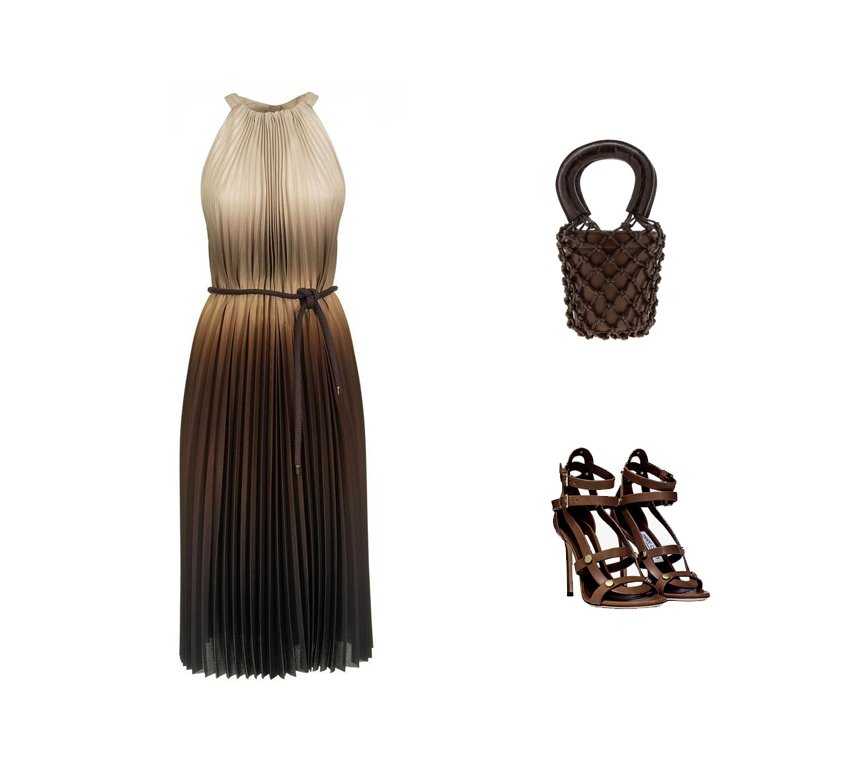 However, with clear teachings of the etiquette of the perfect guest, with a good overview and a careful evaluation of pros and cons,
we want to guide you through the pitfalls to make the wedding day pleasant also for you.
Do you want to win the title of the best guest outfit?
Have a look at the Spring/Summer 2019 latest wedding trends in order to be perfect!

How to dress for a summer wedding by day or by night?
For a summer wedding by day:
you should avoid vitaminic and too lively shades: the midday sun is very hot and bright colors attract the sun's rays (and flies as well!).
For a wedding in May or September:
yes to suits or suits separates.
The mild temperature will allow you to wear lovely Chanel-inspired blazers in cotton boucle matched with pants to get a classic
but always elegant style in pastel shades.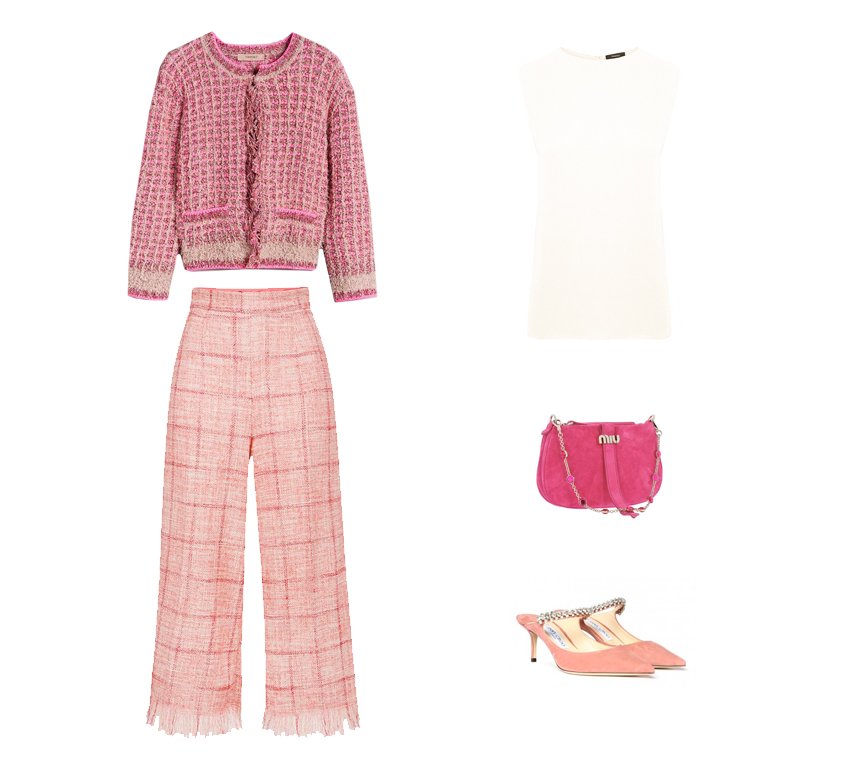 For a summer wedding by night or in the afternoon:
it will require a further adjustment and a little more discretion.
Avoid suits separates and tailleurs and opt for longuette or cocktail dresses in precious and elegant fabrics in more sober colors.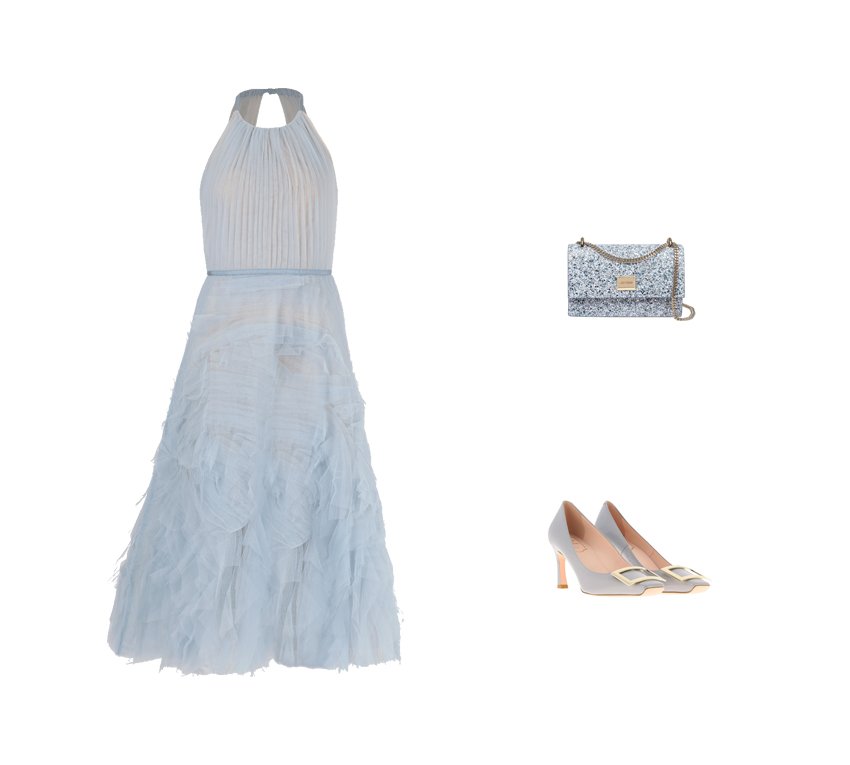 A long dress is perfect for a night wedding.
Choose light fabrics like chiffon, georgette or crêpe but be careful to avoid the red carpet effect, which means kitsch.
You are at a wedding not at Golden Globes or Met Gala!
No also to black, it is too banal, gloomy and obvious, better to wear for other occasions.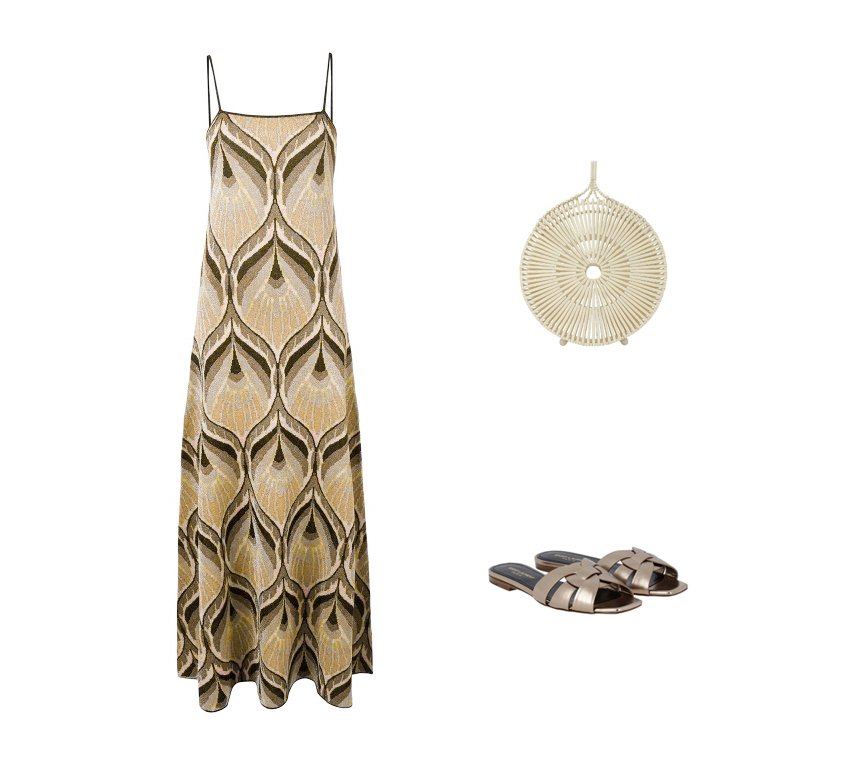 If you are jumpsuit addicted, the elegant long jumpsuit - all of us have one in our wardrobe - is a versatile and perfect answer both for day and night wedding.
The etiquette of the wedding guest

Here are some fundamental preconditions:
1. A categorical no to miniskirts, mini tops, and too deep necklines.
We are attending an official ceremony even if the open air setting chosen by the couple is voluntarily informal.
Even with hot temperatures and sultry heat you are not allowed to wear too audacious dresses.
2. Never in white or in black:
because the first is the color of the bride and the second is considered mournful and so unadapted for a feast and joy day.
Opt for juicy and pastel colors or delicate patterns, such as timeless floral prints.
3. If the ceremony is celebrated at the church, be sure to cover your shoulders with a shawl, a stole, a nightwear light trench or an elegant cardigan
with bright and valuable yarn.
4. Be romantic!
Yes to fresh and "flowy" dresses, with rouches and volants.
The boho-chic accessory par excellence for a guest (or bridesmaid) is the flower tiara such as Alexandra di Hannover or Cara Delevingne.
The accessories for a summer wedding
Concerning bags:
yes to clutches, elegant satchels, minaudière, on-trend mini and micro bags, and the must-have trend of this season: the eco-bags!
Concerning shoes:
If you don't love high heels you should avoid to wear them for a summer wedding
where standing up is harder due to hot temperatures that make your feet and ankles swollen.
Standing up for a long time wearing high and stiletto heel sandals with naked effect bands (among the Spring/Summer 2019 sandal trends),
when the tolerance threshold decreases, could be a real torture if you are not prepared.
But don't worry, there are the most-wanted flat sandals of this season that are a real go-to item for any occasion!
Do you have already thought to shop your favorite ones for a wedding at sunset by the sea?
The answer is "Yes, I do"!
Aren't our outfit ideas for a summer wedding enough?
Let yourself get inspired and discover our Outlet Area as well! Sign up to our newsletter to receive all our fashion news and promotions!