What to wear to work?
This issue - as well as what to wear to a graduation in winter or how to dress for your summer graduation - is a much-debated topic especially by virtue of its controversial nature. But don't worry! From now on, thanks to our practical guide and fashion style tips, the work wear for the office will have no more secrets for you, whether you are a career woman or a girl still looking for a job, and included if you just are a lady who knows how much a flawless work outfit may help you at work today.
A few rules to follow - but all crucial! - that are valuable as much for a work appointment as for a job interview: indeed, in the latter case the first impression really makes the difference, and also your outfit has a key role in impressing positively your eventual employer.
In some places, similarly to men's business attire, it is required a formal, classy and traditional wear.
When it comes to women's business attire women's suits and separated, and also midi sober dresses to match with delicate accessories and jewels, medium heels (also in kitten version that has come back into fashion exactly with the Spring/Summer 2018 trends) and natural makeup.
In case of business events of representation, the appropriate dress code is more rigorous: women's suit with pants or skirt in beige, blue or grey to wear with a classy shirt, sheer pantyhose and classic pumps.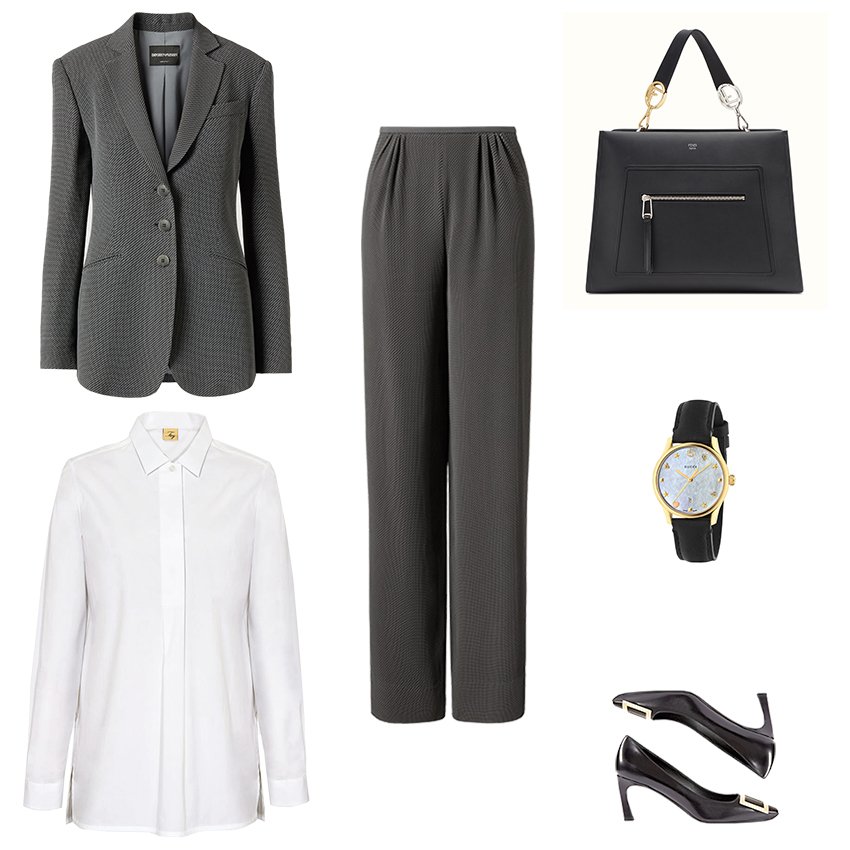 What should I wear to work in an informal and dynamic office?
In this case, the perfect dress code is the business casual: comfy and professional.
The business casual style - unlike the easy-going smart casual style that is more appropriate in a young context - actually is elegant while winking at the casual wear to put a chic, glamorous and hip spin on the more traditional outfits (a bit like Meghan Markle when plays as Rachel in the tv series "Suits").
Unlike the Anglo-Saxon "casual Friday "from which it has evolved, it is ideal for a daily work wear in the office.
Yes also to the on-trend colors but always with some restraint; no to jeans: replace them with midi skirts, palazzo or chino pants (perfect for those who go to work by bicycle), or culottes.
For what concerns shoes, yes to closed models and pointy toes, flats, and medium heels. No to sneakers, open shoes and sandals that leave the feet completely uncovered.
Round out the look with a fine bag, that always has a certain appeal, but always keep in mind the context: clutches and mini shoulder bags are not included in a business look (casual included).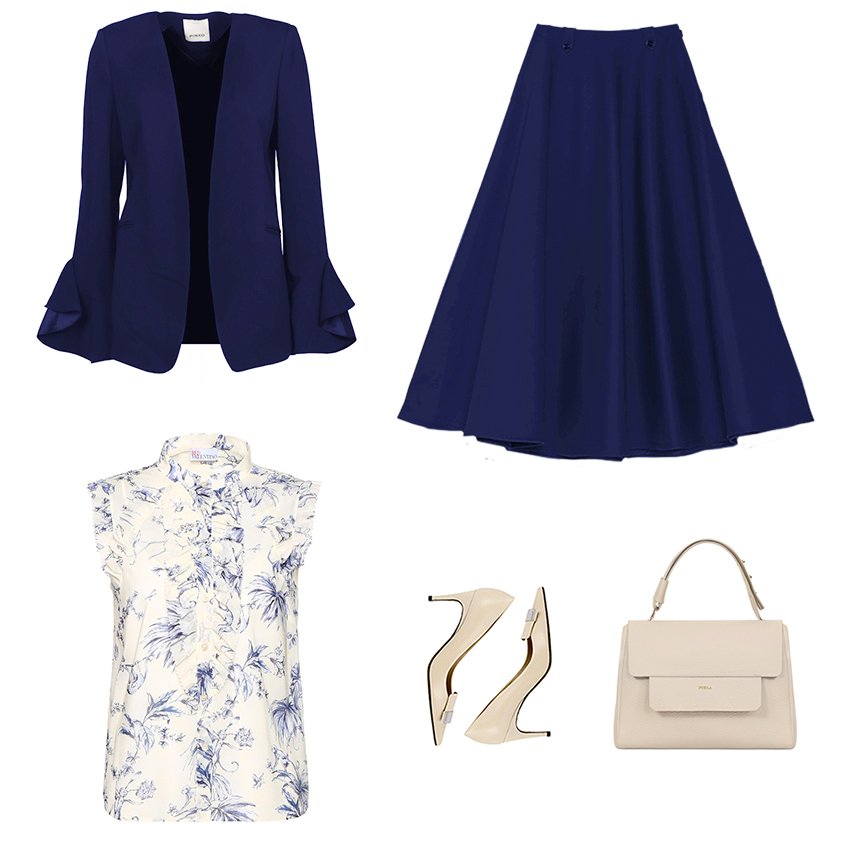 In any way, when the must is "less is more" the perfect solution is a black sheath dress: the little black dress is among the unmissable garments to have in your wardrobe, and befits also an informal dinner. Maybe some of you didn't know that in the 80's this timeless evergreen was the uniform per excellence of every real businesswoman (with shoulder pads and very high-waisted belts), and still today keeps being popular by virtue of its indisputable wearability and elegance.
What to wear for a business lunch?
Although the occasion is less formal, in any case, it is a corporate event to talk about issues concerning the company in a more informal environment, if compared to a usual meeting at the office.
Be classy but less formal: put aside black, and lighten your outfit with some micro pattern or pastel shades, with a pair of medium heels.
Dare but moderately by sticking to the dress code required by the company.

And what about summer? Well, when hot weather and high temperatures arrive, dressing appropriately for the office according to the company context might cause you some difficulties.
What clothes wear to work in summer?
If you too want to renew your business wardrobe for the coming of good weather with items and accessories that you might wear at the office this summer, you must know that it doesn't matter if it's June, July, or August and that outside is hotter than hell: the rules we have previously listed above are all valid also in this case, since the common decency remains a cornerstone of work wear.
Remember that you should always avoid sleeveless blouses, shirts, and dresses and that some kind of sandals (just like flip-flops, sliders, and others that leave the foot excessively uncovered) are totally inappropriate. Opt for light fabrics and layer your clothes to protect yourself from the temperature changes due to the air conditioner!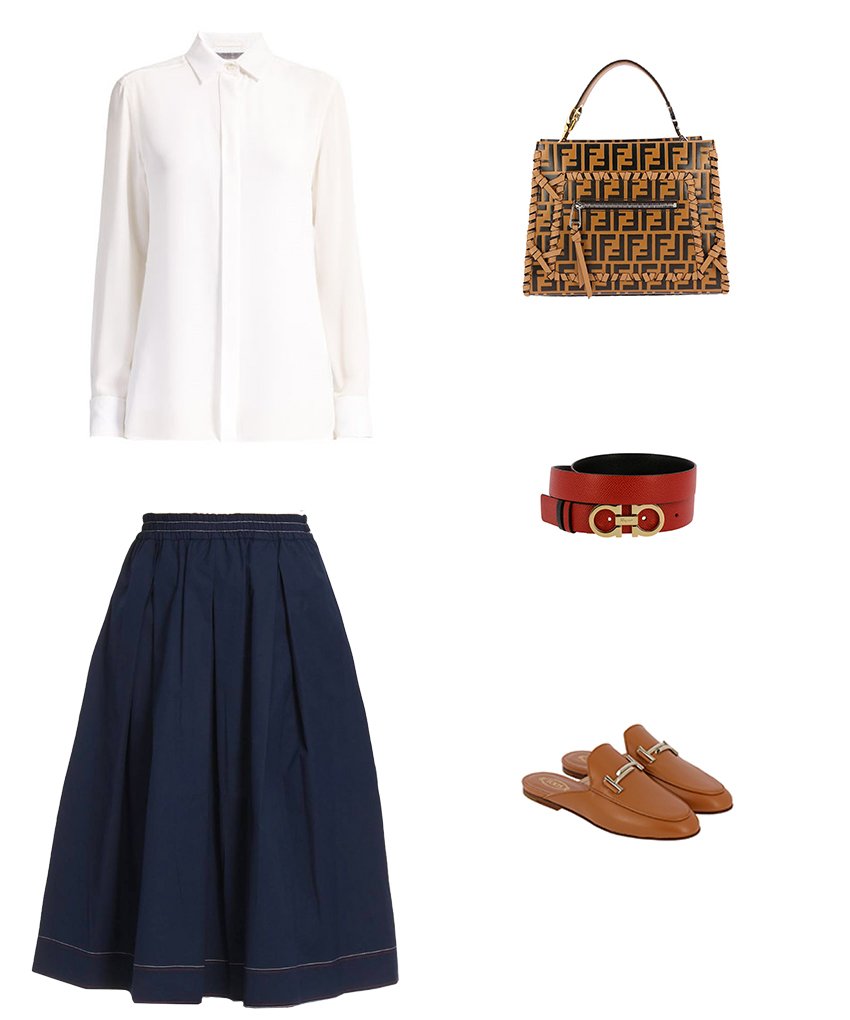 And now, to conclude, let's make a quick recap to fix the 10 mistakes not to make in your work wear:
No to sheer effects and lingerie in view.
No to totally uncovered harms.
No to jeans.
No to the items and accessories that you would wear at the disco, on holiday or at the gym.
No to shorts.
No to mini dresses and skirts.
No to too low-necked garments.
No to showy jewels and bijoux
No to excessive sandals and shoes.
No to sneakers (with the exception of the smart casual context).