Versace Spring/Summer collection 2018
The Italian luxury brand Versace was founded in 1978 by Gianni Versace, who started his activity with the opening of his first boutique in Milan. His brother Santo and his sister Donatella, who is the current chief designer and vice president of the company, joined him very soon in the creation of the first luxury collections, and together created the other ready-to-wear lines: Versace Collection, Versus Versace, and Young Versace.
The feature that has always been at the basis of Versace clothing, Versace footwear and Versace purse and accessory collections is the eye-catching baroque design, infused with bright colors, fanciful patterns and greek-inspired detailing, which are all invariably marked by the brand's signature: the Medusa.
Find out the Italian luxury fashion at Giglio.com and shop for Versace online with free shipping
Versace Spring/Summer collection 2018
No items found for the Spring/Summer 2018 collection, try to check in our Outlet area.
Items in Outlet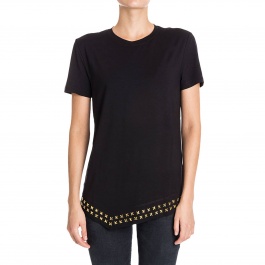 $ 232 -50%$ 116