CESARE PACIOTTI Autumn/Winter 2017/18 collection
Cesare Paciotti is an Italian fashion designer, famous mostly for the line of classic shoes for men signed Cesare Paciotti. Cesare Paciotti men's shoes are classy and handmade with select leather. There are also Cesare Paciotti women's shoes that making them visible to the outside with sensual and vertiginous heels, are targetted to those women that use their shoes to show their qualities. In 2002 Cesare Paciotti founded the Paciotti 4Us line for men and women with an athletic and dynamic character ideal for leisure time. The Paciotti 4Us line can also be found in the of children's shoe and clothing collections. The symbol of the Cesare Paciotti brand is the famous dagger, which identifies each of his creations.
Discover Cesare Paciotti Collections on Giglio.com. Shop with ease, and enjoy free shipping.
CESARE PACIOTTI Autumn/Winter 2017/18 collection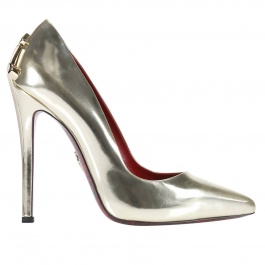 £ 451.55 -50%£ 225.79