CHRISTIAN DIOR Autumn/Winter 2017/18 collection
The Maison Dior was founded in 1947 in Paris at 30 avenue Montaigne, historical headquarter to this day. It owes its name to one of the Haute Couture's fathers, Christian Dior, who in the post-Second World War, relauched women's fashion that was sacrificed by war years, launching a new chapter in fashion history: these were the New Look revolutionary years, as exclaimed Carmel Snow, editor-in-chief of American Magazine Harper's Bazaar, when she saw for the first time the first collection of Dior Corolle and of the new shapes that, leaving the past behind, enhanced the gracefulness of women silhouette . Today, under the Raf Simons's creative direction, Dior, take part of LVMH group and its collections from Haute Couture, to prêt-à-porter, accessories and shoes, attest to Maison's founding principles and unmistakable style, in an timeless elegance, in the highest quality materials and fabrics research, in the details, finishing and in the sartorial excellence that marks it since forever.
CHRISTIAN DIOR Autumn/Winter 2017/18 collection
No items found for the Fall/Winter 2017/18 collection, try to check in our Outlet area.
Items in Outlet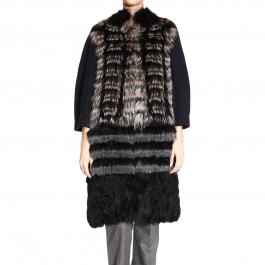 £ 8,061.96 -50%£ 4,030.98