Bridesmaids, flower children or little guests?
Here are the most tender children's wedding outfits and accessories!
Whether summer or winter, our first style tip is that children have to feel comfortable with what they wear: choose comfy garments and accessories,
above all for very young children (take a change of easy-going clothes, just in case).
The situation could be very stressful for you and for them.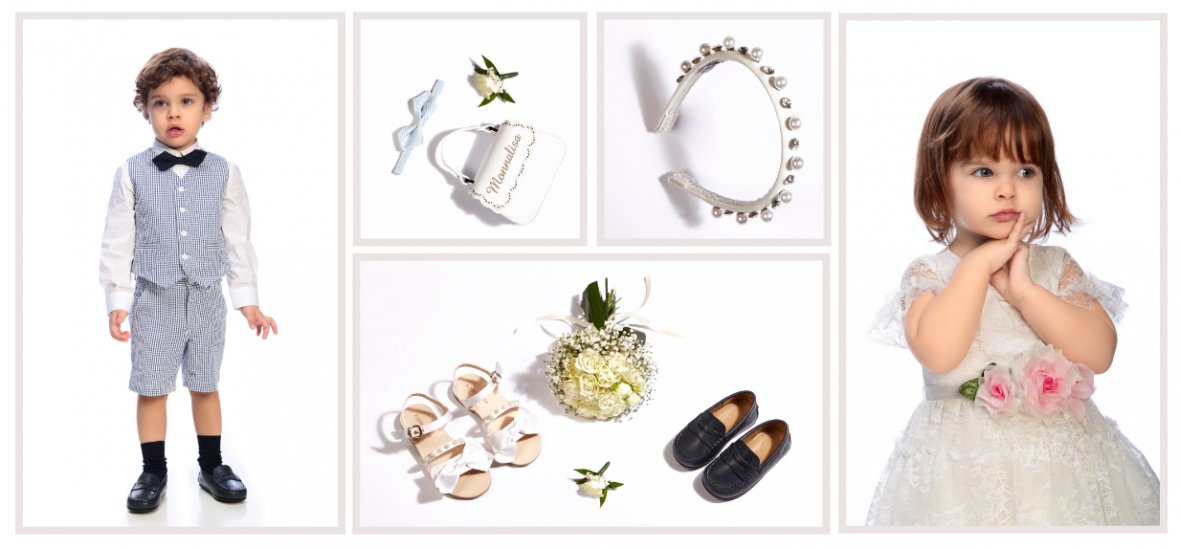 Looking for some inspiration?
Here is our complete guide - with sweet and fashion matchings - to the perfect kids' wedding looks!
BABY GIRL WEDDING OUTFIT
Dresses are always the most elegant and feminine option, perfect for both day and night.
When it comes to a summer wedding, take a bon ton cardigan or a shrug,
if temperatures drop during night ceremonies.
Instead, for a winter wedding choose a combined coat.
There is no better choice: select the dress with the bride if the little girl will be a bridesmaid, according to the ceremony atmosphere as well,
in order to get flawless girls' wedding outfits!
BABY BOY WEDDING OUTFIT
For the little boys, as for men, you can choose suits or suit separates.
But above all, if it concerns a summer ceremony, your little ones won't want to wear blazers, even in fresh and light fabrics :-)
If you want to create comfy and fresh boys' wedding outfits, choose a shirt (in cotton or in linen) to match with pants or shorts with suspenders,
and eventually, also a bow tie.
When it comes to shoes, choose them according to the season among chukka boots, loafers or sneakers.
Have you received a wedding invitation?
If you don't know what to wear, have a look at our style guides for her and him with many inspirational looks and style rules (also concerning colour matching) to be flawless!
Moreover, when it comes to kids, discover all the pieces and accessories for ceremonies by the best designers for boys and girls online at Giglio.com.