Pear shaped body: what to wear to enhance it?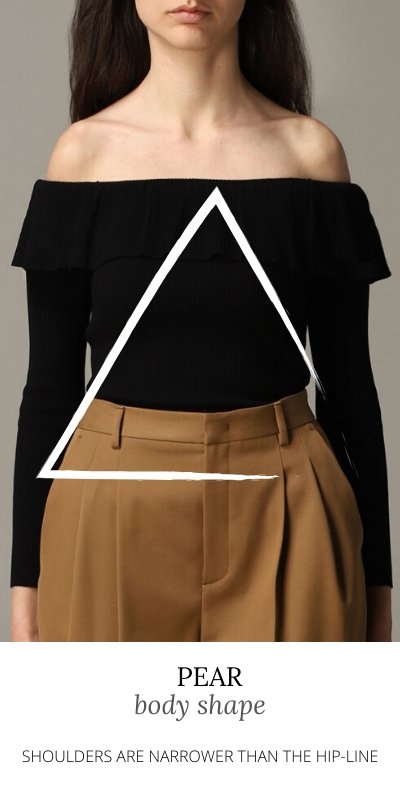 Among the characteristics of those who have a pear shaped body or a triangle body shape, the most obvious is that shoulders are tighter than hips.
Due to this disproportion, choosing the right size is very difficult in the case of one-piece items, and in some cases, such as for swimwear, it will be necessary to shop in different sizes.
Knowing the body shapes and knowing which one is ours is the first step – the fundamental one – to learn how to dress well.
The second one is to learn how to match colors and choose them according to your skin tone.
How to enhance a triangle body shape?
Don't worry, dressing well if you have large hips – even if you are curvy – by enhancing your curves, is possible: celebs like Kim Kardashian, JLo, Beyoncé, and Shakira prove it given that they are considered the hottest women in the world.
The secret is trying to balance your figure by enhancing your strengths in order to hide your weaknesses.
In this case, your strength is to have a thin waist, so enhance it to create the perfect curves of an hourglass body shape.
How to enhance a triangle body shape??
Let's broach the subject by starting from those feminine clothes considered as "hot topic" by those women with large hips with some outfit ideas:
Pear shaped body look: trousers
Avoid tight, low waist pants and with appliqués on hips and bottom: choose pants with a straight line and, above all, with a high or regular waist.
Match them with sweaters, shirts, and top creating volume or, alternatively, wear necklaces and accessories that shift focus in your upper body.

How to wear them together for a work outfit? Combine them with blazers structured on the shoulders, shaped on the waist yet not short so as to go with the line of your hips.
Pear shaped body look: dresses
Favorite for special occasions and ceremonies, dresses are never missing in a woman's wardrobe. Remember to choose those dresses that enhance the waist and prefer long or longuette models.
Pear shaped body look: jeans
Perfect for a casual look, the same rules apply for both trousers and jeans. Avoid skinny or narrow models long the calves and ankles and choose models with a high or regular waist that fall straight, wide legs, or bootcut.
Pear shaped body look: swimsuits
As for bikinis, go for models that can be combined together and choose colored top pieces with appliqués, wide straps, or with ruffles to create volume.
As for the bottom pieces, choose high-waisted and plain-colored models.
Choose one-piece swimsuits with details on the chest and with a small belt at the waist. Choose slightly low-cut models to optically lengthen the legs and avoid trikini.
In creating these looks we have taken into account some very important style tips that we will reveal to you immediately.
1. Try to enhance your waist.

2. If you are busty, enhance your breast with V-necklines, but avoid creating volume with jewels, appliqués, or rouches.

3. If you are small-breasted women, try to re-establish the proportions between the upper and the lower part of your body with boat, sweetheart and plunging necklines, which create volume in the upper part (for example with rouches and frills) and choose soft pieces down your hips to minimize your behind and your thighs.
Use also colors: bright ones in the upper part and dark ones in the lower part.
4. Choose long or flared sleeves.
5. Jackets and blazers, to wear open or kimono-style, will be perfect both to enhance your shoulders and to minimize your hips.
6. Choose long or slightly flared, full-length skirts, which fall soft or follow the sinuous line of the hips yet always high-waisted.
9. Even heeled shoes (and especially if you are short and you want to look taller) play an important role, as always: choose them pointed and with the stiletto heel to slim the figure!
The same rules apply to those who have a pear-shaped body, but curvy: avoid adding volume and drawing attention to the hips with pleats, darts, and overly wrapping items. But avoid equally oversized items that add volume indistinctly throughout the body.
Discover what our style experts have carefully selected for you!