What to wear in Taormina?
Here are our fashion tips about what to pack to get a flawless holiday look, but also a little guide to learn about this beautiful town!



Together with Cefalù, Ragusa, the charming Marzamemi, Noto - even more beloved from the day Chiara Ferragni and Fedez have decided to celebrate there their wedding - Aeolian islands, Favignana and Lampedusa, Taormina is among the most famous destinations in Sicily.
Near to Giardini Naxos and Catania, famous for its nightlife, Taormina is located on the north-est Sicilian coast, and it is the perfect destination for families, couples and friends.
The Mediterranean weather in Sicily is characterized by hot summers (often scorching) and mild winters. In inland areas, above all in high-altitudes, the temperatures are colder with heavy snowfalls during winter.
If you love the sun and the sea, spring and summer are the best periods to visit Sicily, one of the most favourite destinations for international tourists thanks to its cultural and natural heritage.
What to visit in Taormina?
As you know, to visit a big city you need more than a week to discover all the history, enjoy art and natural attractions (also the surrounding). If you will stay in Taormina for a few days, don't miss the ancient Greek-Roman theatre, the beautiful municipal villa, Palazzo Corvaja and the Duomo.
The main street in Taormina is Corso Umberto where you can find the historical centre: today is a pedestrian area rich in boutiques, hotels, typical shops and pubs on the coastline where you can eat or have a happy hour enjoying wonderful sunsets.
Undoubtedly, the best view is from the panoramic terrace of IX April square (which divides Corso Umberto in two and where there is the suggestive Torre dell'Orologio). The staircases of Taormina are considered really insta-worthy, so stop and take a picture!
Over Taormina, there are the Santuario della Madonna della Rocca and the ancient Saracen castle of Monte Tauro.
If you are wondering where to go to the beach, among the most enchanting places in Taormina, there is the natural reserve of Isola Bella that offers one of the most beautiful beaches of Sicily.
What to pack for Taormina?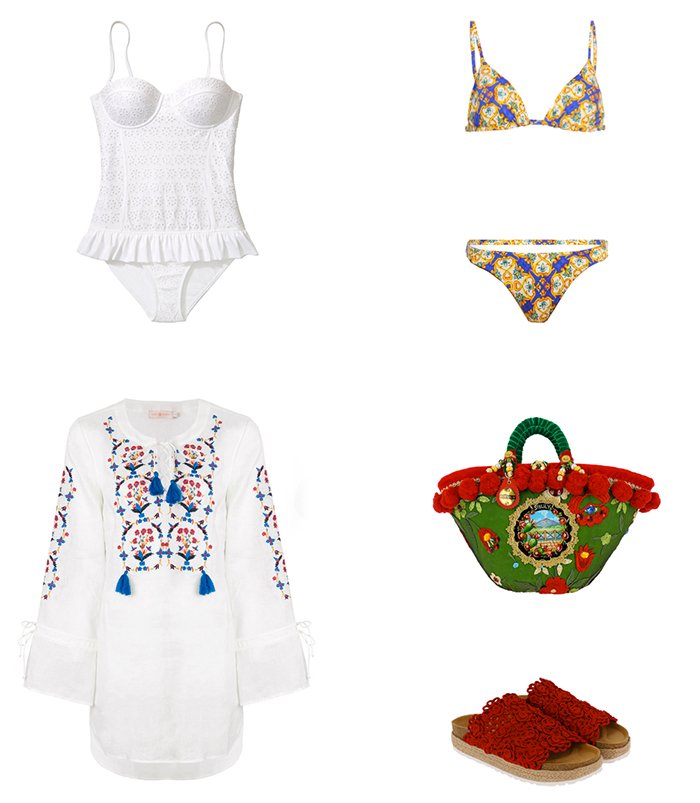 To pack a perfect luggage for a summer holiday in Taormina you can't miss romantic and rétro swimsuits - among the Spring/Summer 2018 beachwear trends - and beach-robes: kaftans for the day (long or kimono) will be perfect with sandals and espadrilles (for the sudden change of outfit) and a bag such as the typical Sicilian straw bag (natural bags go viral on social networks since last year but now are among the must-have bags to absolutely have in 2018 to wear all day long).
Actually, for the night, palazzo pants or long skirts and dresses will be perfect for an evening stroll or to have dinner at one of the downtown restaurants.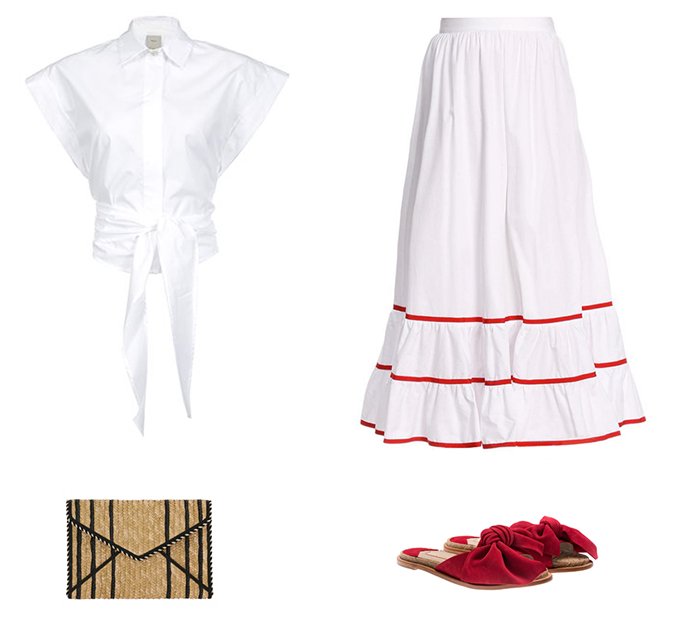 Among the accessories, there is a foulard to wear like a headband with a stole to protect yourself from breeze and humidity, if necessary.
Flat but precious shoes, espadrilles and flatform sandals aren't just among the on-trend shoes of the summer 2018 but are the perfect shoes for all the women that want to travel comfortably with a chic touch, above all in an elegant town like Taormina.
Choose fresh fabrics such as cotton or linen to be prepared for the hottest hours of the day. Choose white to match with colourful accessories, for example, red and yellow (typical Sicilian colours) or blue.
Summer holiday in Italy? Discover what to wear in Capri and on the Amalfi Coast or our style guides for the most famous summer destinations like Santorini, Mykonos, Ibiza and Formentera!
Sign up for our newsletter to receive all the fashion news and promotions!