What to wear if you are an hourglass shaped woman?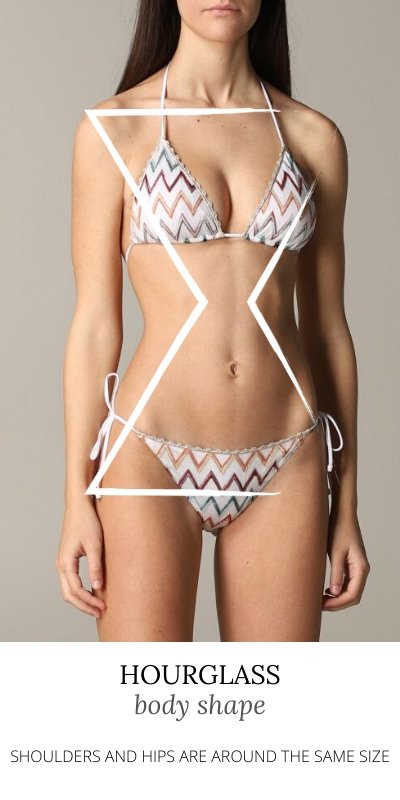 The hourglass body figure is considered as the most proportionated and sensual body shape.
Some iconic celebrities like Marilyn Monroe, Elizabeth Taylor, Sophia Loren, Brigitte Bardot, Dita Von Teese, Kim Kardashian, and the myth of the perfect measurements of the 50's state it.
"90-60-90" is the most feminine silhouette per excellence: busty chest, rounded hips, and bottom, slim legs and waist are the main traits to recognize the sexiest body shape since ever.


How to determine whether you have the hourglass body shape?
The shoulders of those women who have this body shape measure as much as their hips have a banging b-side, and usually have a prosperous chest with a very slim waist (unlike those women with a pear-shaped body who basically are small-busted).
Women with an hourglass body shape can be both curvy and skinny (with tighter hips and a smaller yet firmer chest) and tend to gain weight evenly by keeping unchanged all their main features.
However - we will always repeat it - the perfect body par excellence doesn't exist, but only the right way to dress well and enhance at your best your curves by choosing suitable clothes to underline your strong points, and hide your little weaknesses. Get to know your own it's indeed the first step to take to look great with any look. The second one is to learn what colors go well with your skin and how to match them.

How to dress the hourglass body shape?
Get inspired by these outfit ideas for every day (whether it is autumn, winter, summer, or spring), but also for important events.
Hourglass Shaped Woman Outfit: dresses
The right dresses? All! As long as they are wrapped at the waist and enhance your chest.
Crisscrossed, flared, empire style, 50s style, sheath or dressing gown (the so-called wrap dresses, which are those dresses that are crossed in the front closing in the waist through a belt, always in thin fabric, which remains fixed on one side and fastens on the other hip) are mainly the perfect dresses for those women with an hourglass body shape to wear also as evening dresses or formal wear, the only note is not to make them look gross with "very" eye-catching patterns or mini length.
The perfect length is certainly knee-high: the perfect skirt for the hourglass body shape is, indeed, the pencil skirt! Also, the flared skirts, the full skirt, and the empire cut skirts are perfect.
Hourglass Shaped Woman Outfit: casual
Avoid short sleeves if you have a prosperous chest since they extend the horizontal line of your breast by enlarging it optically: better very short or three-quarter sleeves.
Regarding trousers, pick them high-waisted (yet not too high!), and prefer palazzo models, but avoid very close-fitting models or with a low crotch, especially if you have shapely legs.
If you have a curvy hourglass body shape, avoid every kind of decoration like pockets, trims, ruffles, etc, which create additional volume, just like oversize patterns.
Hourglass Shaped Woman Outfit: bikini and swimsuits
The most recommended swimsuit for the hourglass body?
There's the perfect swimsuit for every type of body shape.
Those for an hourglass body shape must support the chest and underline the waist.
Balconette bra, or with underwire, tied behind the neck, with thick straps, all the one-piece models, high-waisted slips, or with thick laces. The slim hourglass woman surely has more choice: yes also to bandeau bikinis and slim straps. Absolutely no to hipster and boyshort bottoms in no case.
In creating these looks, we took into account some important style tips that we are going to reveal now.
As we already said, the hourglass body shape is a well-proportioned body. Finding the perfect outfit to enhance your curves won't be a problem even if you are short and shapely!
You just have to keep this balance avoiding to throw it off by creating volume or color contrasts only in the upper or in the lower part of the body.
One of your strong points is certainly to have a marked waistline, whereas you might have a little extra belly in the lower body: always enhance the first and minimize the other one with the shaping underwear.
Avoid oversize and shapeless items that would make you look chubbier and would not enhance your body: we know that many of you would like to hide your chest because it is too big and it causes embarrassment (especially with shirts!).
A shapely chest needs to look sleeker: let's start with finding the perfect bra for your chest, able to sustain it well without giving extra – unnecessary – volume (like a push-up).

Prefer smooth and V-necklines, and avoid turtle-necked items, which will make it looks bigger, as those straight items: prefer tight-waisted items that follow the curvy lines of the hips and adhere to your waist.

Prefer dark shades and light fabrics, and if you really don't want to give up on white shirts, you can wear it with a jacket or a cardigan sweater leaving it open to create some vertical lines that will thin your chest.

Wear heeled shoes that slim your figure and that will always be perfect in every occasion to round out your look.
Discover what our style experts have carefully edited for you!