Horizons in the mind
Horizons in the mind / Orizzonti nella mente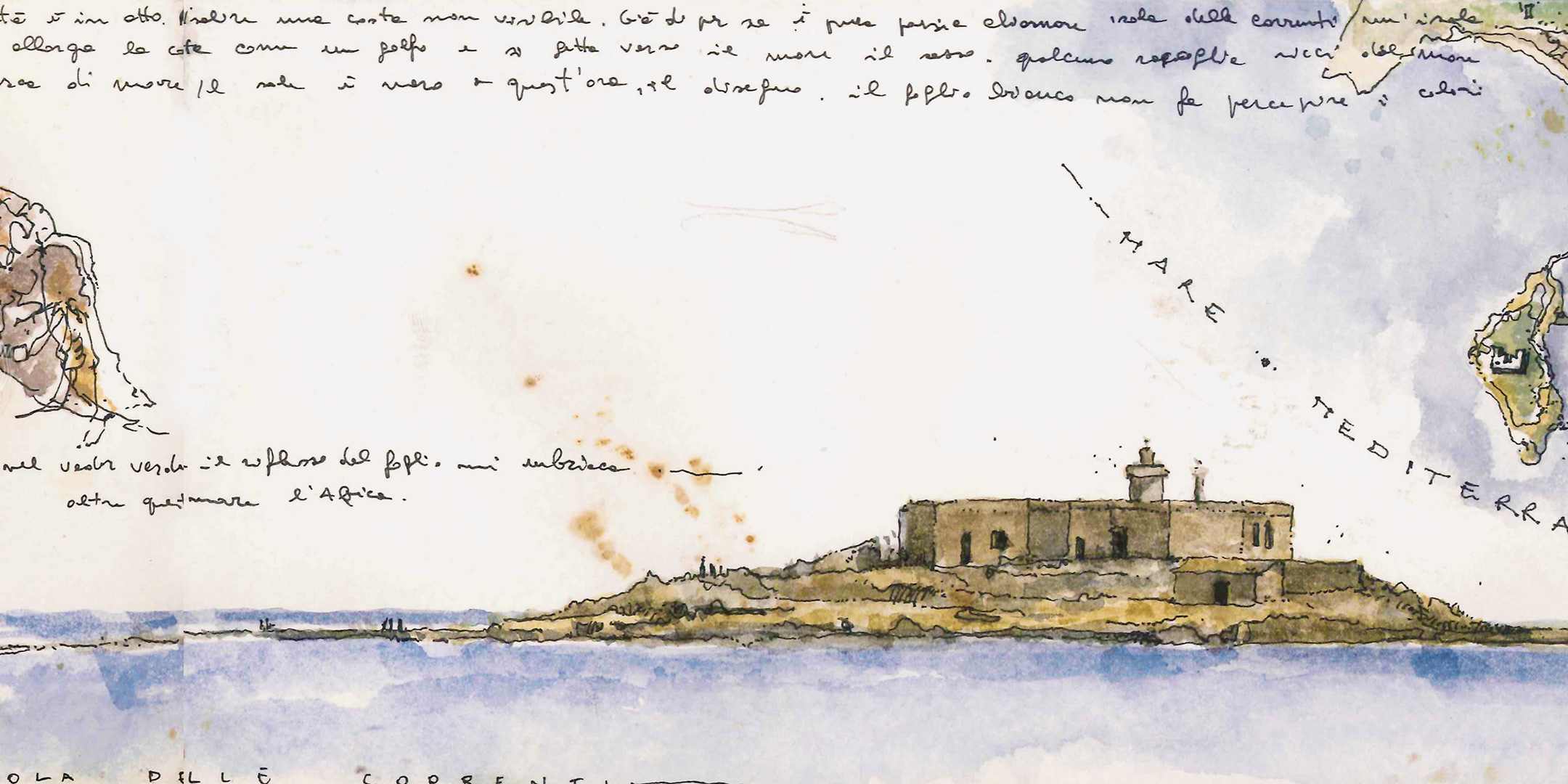 "I was born on this island.
I'm sorry, I won't get off."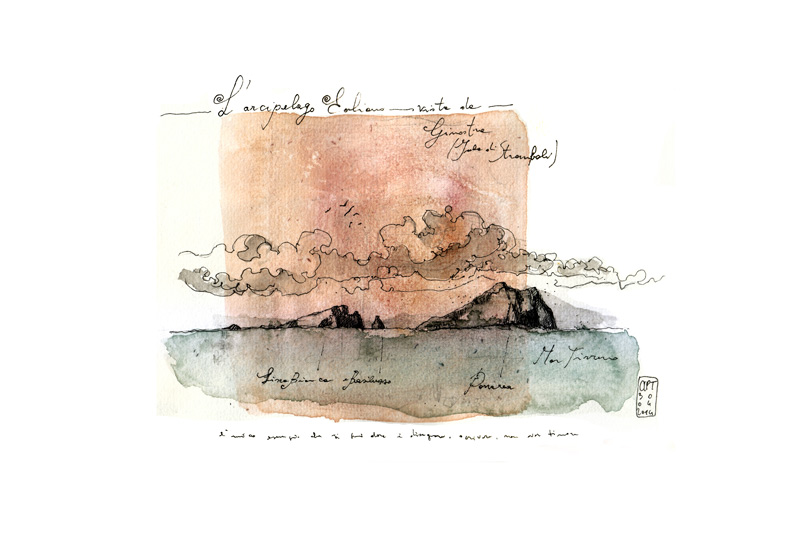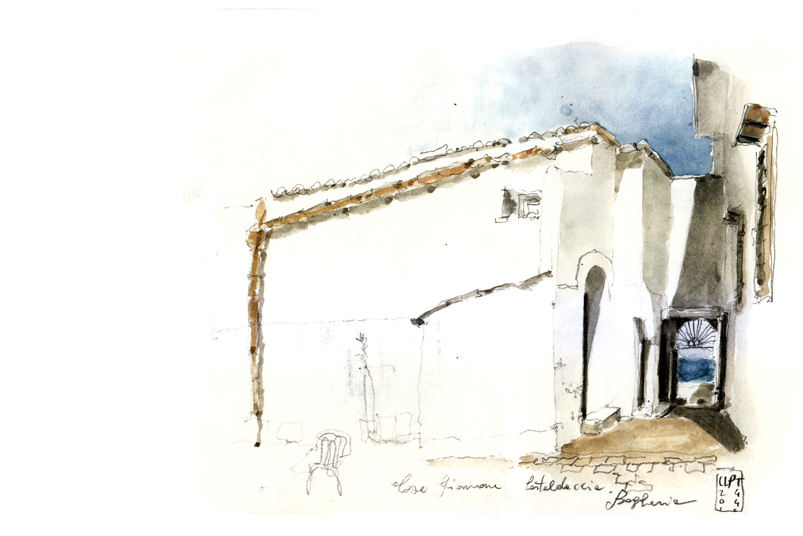 Like a "stone raft" the island of Sicily moves away.
It slips away, then to get lost, to surrender, in the Mediterranean Sea.
Will it be this island to move away from the mainland or us to shove off and become ourselves travel, exploration, discovery?
Ourselves "island-bodies", with this horizon line always in our mind. Sea horizons, sky or land horizons. Clean horizons, clear, often blurred, fine lines, a hazy veil that connects sea and sky in one reverberation.
One horizontal reference line not to miss the "ocean" white of the sheet, keeping it as an essential echo of all the other traces, writings, stains that will later be generated. That horizon, remote, clear, plain, which islanders always keeps in their memory, in their fantasies, in their dreams.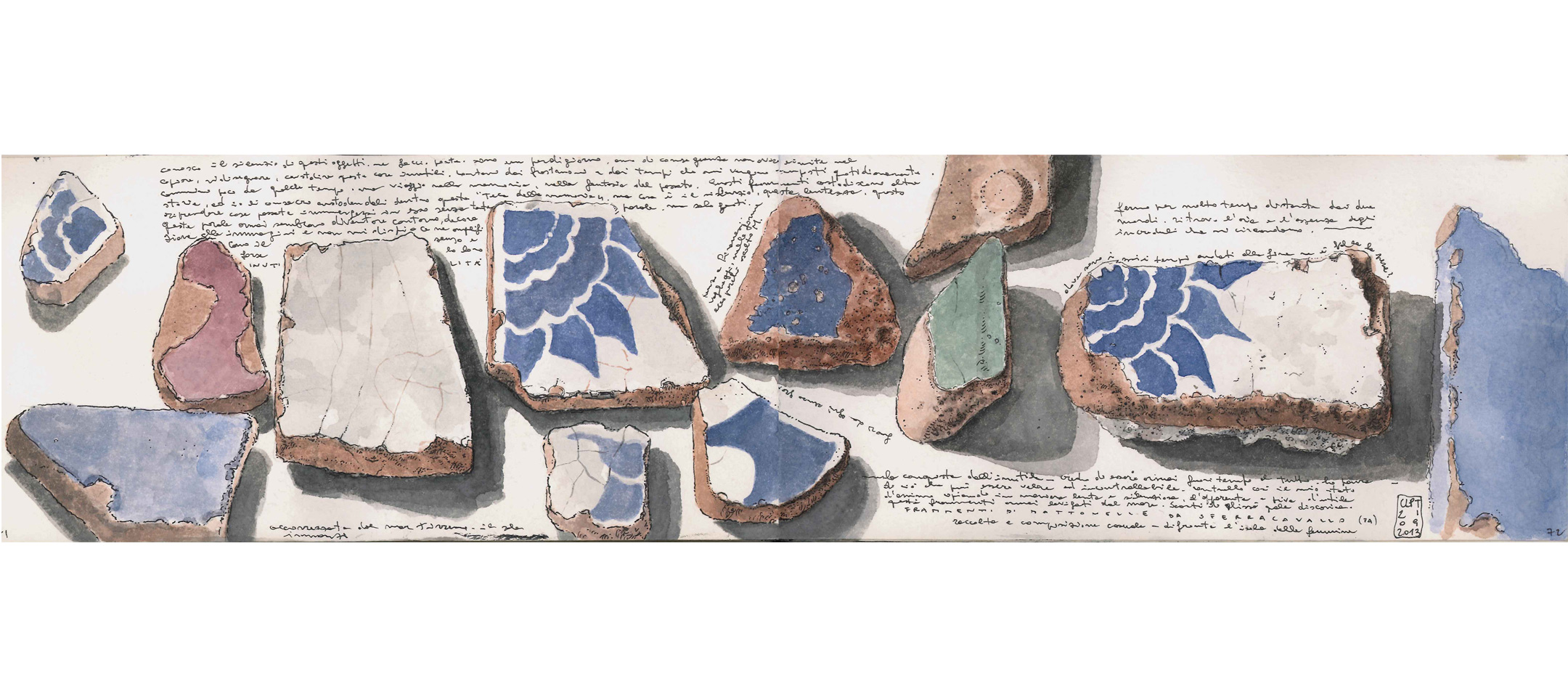 Beyond the horizon, the sight is restricted, still puzzling, unknown, brand-new. The blue mystery, beneath the horizontal line is called sea, it surrounds this "-non island" where we always come back in our minds, when we are far away. In flight. Closing our eyes, holding our breath.
I am a sailor knowing no sea, yet raised in one of the many harbour cities, on the winding coast of this island. A city where it is hard to get lost, not because of its size, but because its shape is "finite", not infinite. Where the outcome of the road ends with the horizon line of the Ionian Sea or with the "muntagna" Etna, or with other views on the countryside. This end, this limit, this knowing where the city begins and ends, this catching with only one look a urban size leads the inhabitant to live in a sort of "island inside the island" where the limit between what's inhabited and what's uninhabited, urban and natural, visible and hidden, material and fluid, is clear. And where wishes, narrations, stories, lives, knowledge, affections, pass for no more than those that can stand between the end of the road and its opposite, at the sight of the sea horizon. The travel starts from there, from recognizing the natural limits of our sight, where human eye is able to see, without binoculars, telephoto, nor telescope. This is the limit of those who record through drawing, of those who do not go beyond what meets the eyes, and have to compensate through imagination and desire.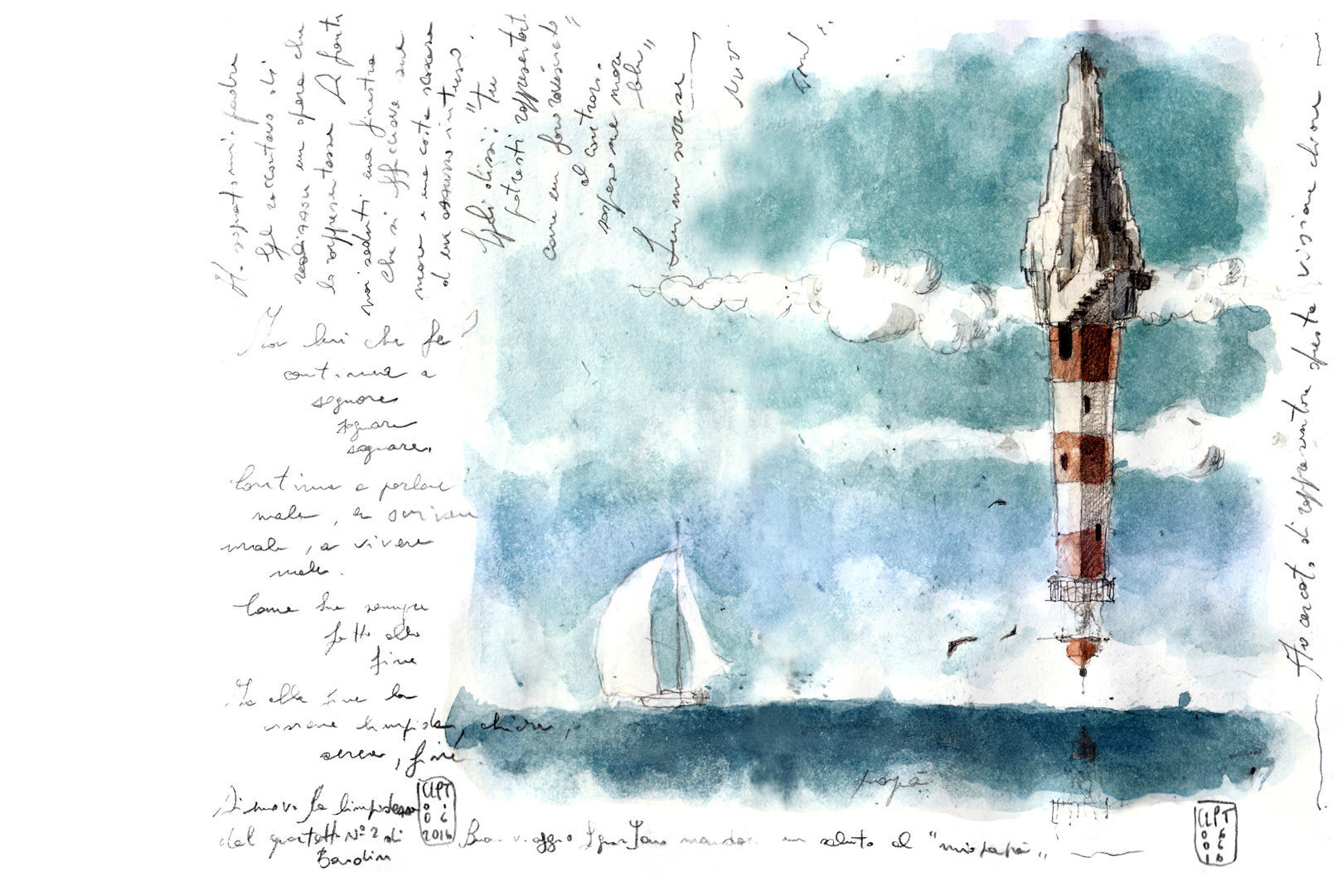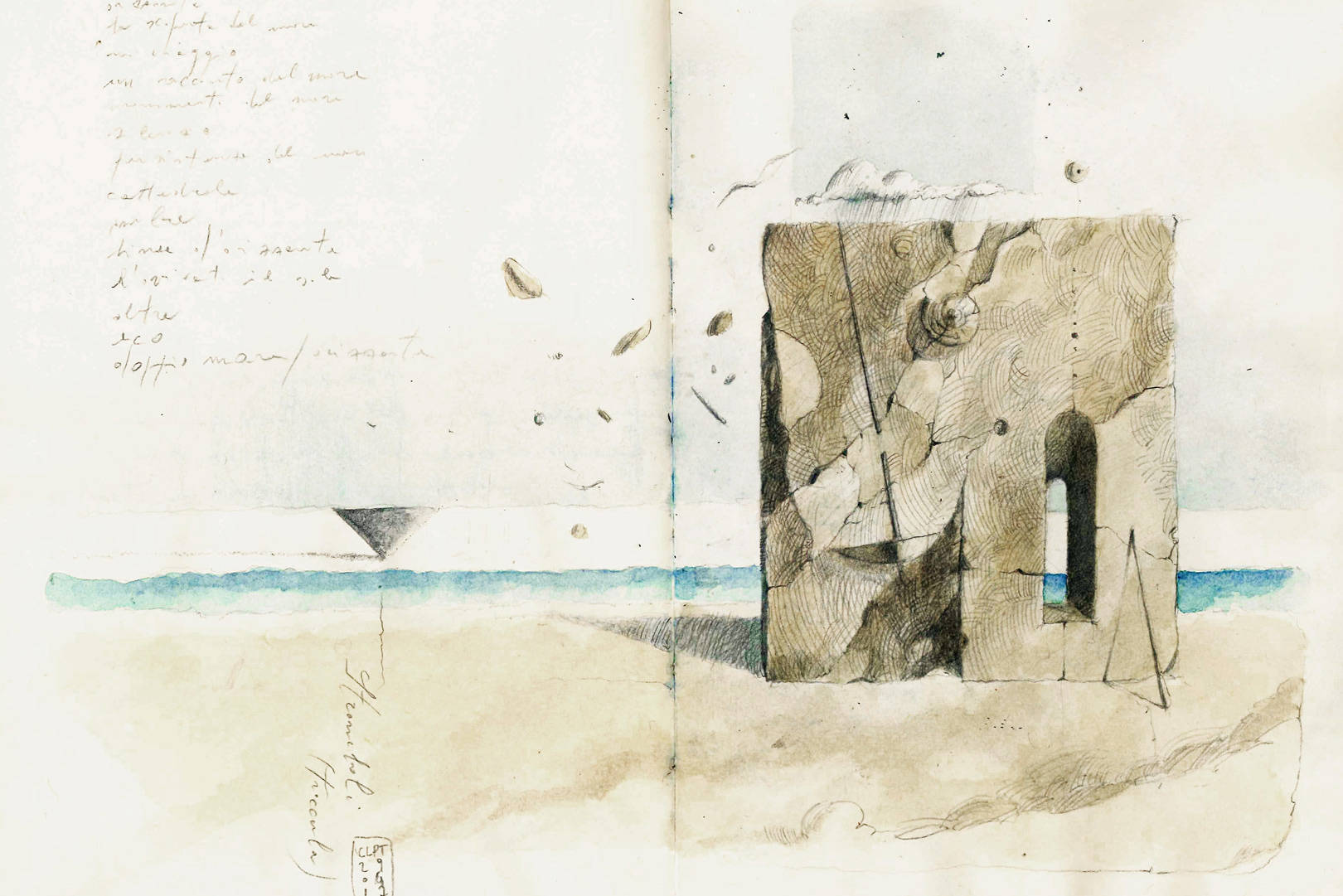 From this always coming back home looking for a point of view where the sea suddenly appears, the drawing becomes the means for a travelling story. For my travelling story. It will be then possible to invent new routes to flush out this deep blue horizon. Going across the perimeter of Sicily to graphically describe a terraqueous landscape where the sea, seen from afar, becomes wonder, discovery, raptures in the eyes. Or else starting from the centre of the island to reveal its sudden rise amongst the distant mountains.
We put some limits to our vision, we register during the travel through drawing, writing, collecting items, we absorb impressions, we go slowly. We distrust other people's stories or guides, multi- media maps. We create our own travelling story, our own "carnet de vojage", our own secret diary. May our travel become narration, cartographic report, moment to show on our return. Our memory's bank to pile on the shelves at home. We keep inside the pages of our diary: visions, suggestions, personal journeys without following a specific route. Through the journey we find ourselves. For one moment we become. Let us distract ourselves to the full. Let us build lists. Let us become "during", in our daily travel.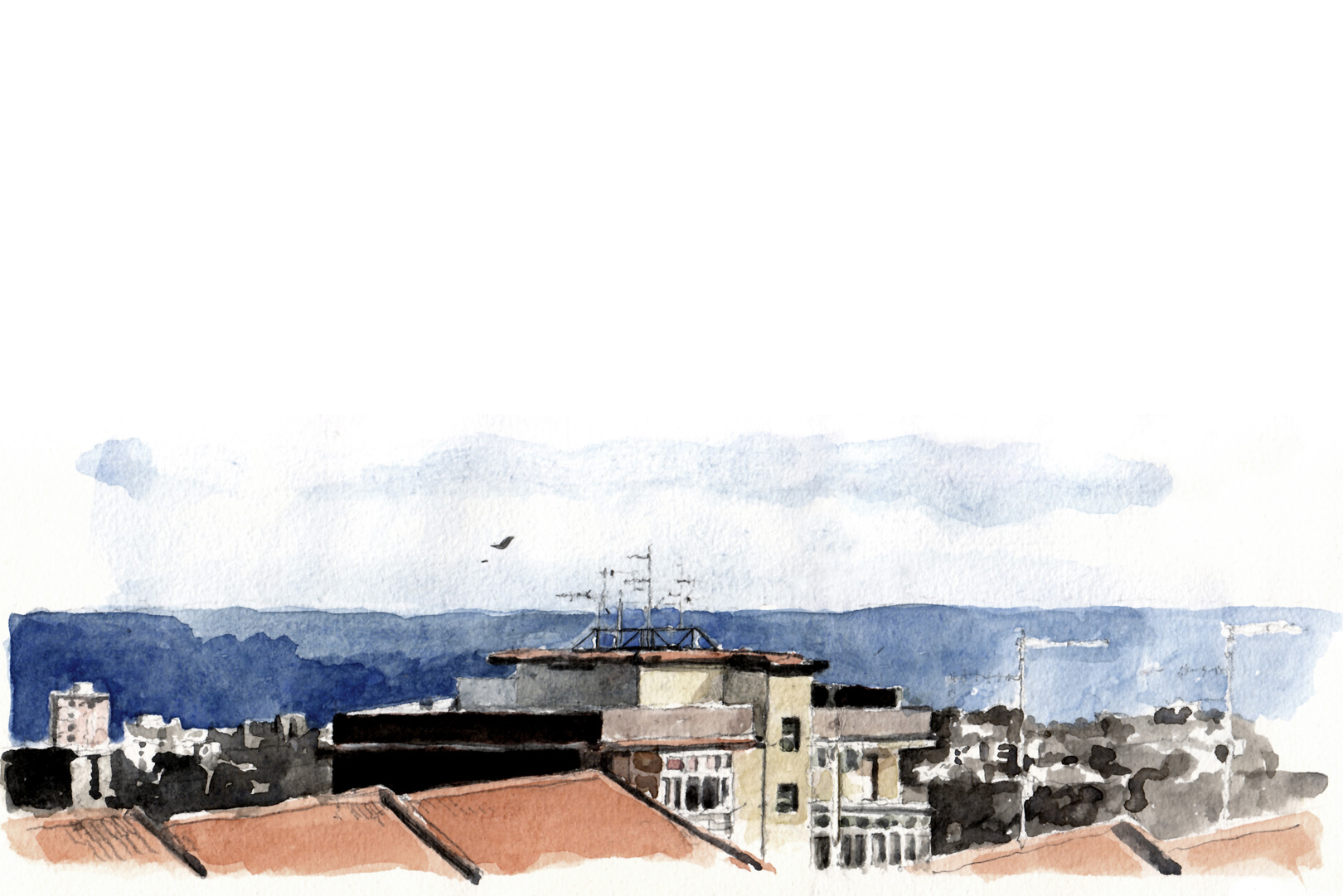 That horizon, remote, clear, plain, which islanders always keeps in their memory, in their fantasies, in their dreams.
Text Claudio Patané
Drawings Claudio Patané